The Frax Protocol is the first fractional algorithmic stablecoin system designed to provide scalable, decentralized algorithmic money in place of fixed digital assets.
The Frax system offers fast transactions, ultra-low fees, and the ability to trade directly with other cryptocurrencies.
Frax Share is the governance token of the Frax protocol.
Read on for our deep dive into the Frax protocol and the Frax Share token, and learn how to buy Frax cryptocurrency in a few simple steps.
Let's get straight to the point!
Frax creators
Sam Kazemian, an American software developer, came up with the idea of ​​a fractional algorithmic stablecoin in 2019 and founded the Frax protocol.
The Frax team includes Travis Moore and Jason Huan, two of the company's principal engineers.
Sam Kazemian came up with the concept when he noticed that the number of stablecoins was growing rapidly, but none of them combined algorithmic monetary policy with collateral. Algorithmic monetary policy projects had either failed or been halted due to a lack of real-world traction. Thus, Frax was created to gauge market confidence in a stablecoin that is both partially algorithmic and partially collateralized.
What is Frax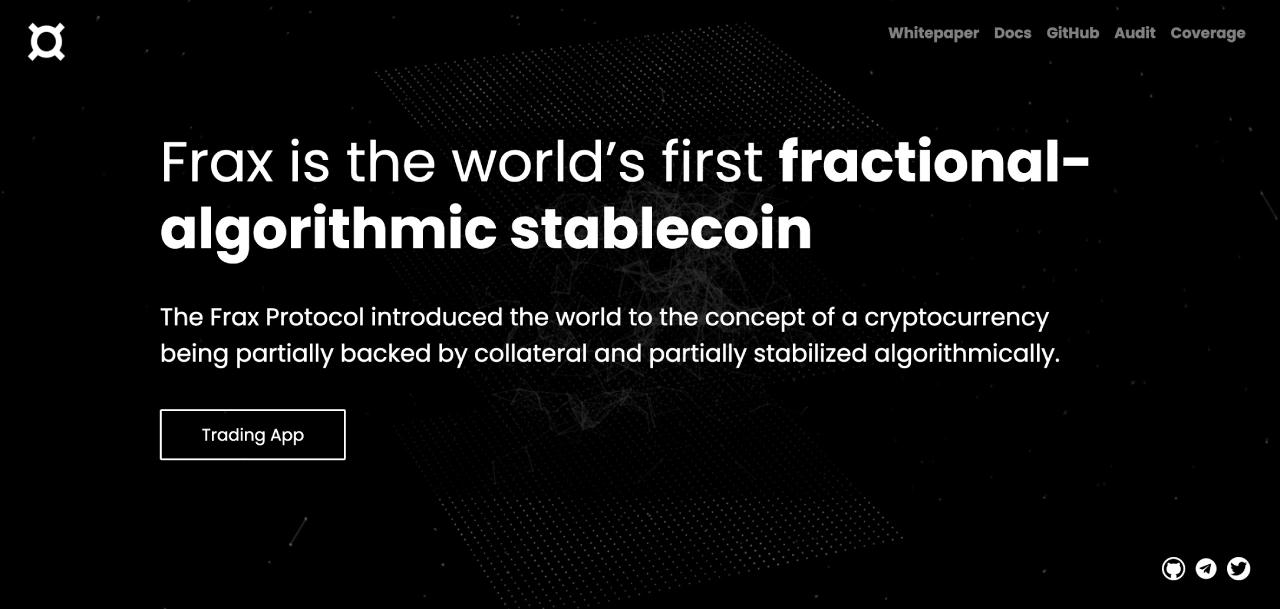 Frax is the first stablecoin system that uses a fractional algorithm and the only stablecoin with parts of its supply backed by collateral and parts of the supply algorithm. The collateralized and algorithmic ratio depends on the market price of the FRAX stablecoin.
Frax is an open source permissionless protocol that runs exclusively on the blockchain. The goal of the Frax protocol is to create a highly scalable, decentralized, and algorithmic currency instead of fixed digital assets such as Bitcoin.
Stablecoins were previously classified into three categories:
Collateralized with fiat
Oversized with cryptocurrency
Algorithmic (requires no guarantees).
With Frax, the fourth and only category of stablecoins, with parts of its supply backed by collateral and parts of the supply algorithm, is officially introduced.
Stablecoin Frax's supply is constantly changing due to its fractional-algorithmic monetary policy. This means that the price of the stablecoin always remains at $1. FXS tokens had a hard cap of 100 million at the start of the protocol, and there is no way to add more tokens in the future.
The Frax Protocol is a two-token system comprising a stablecoin, Frax (FRAX), and a governance token, Frax Shares (FXS). FXS is a financial investment and governance asset, while Frax is a crypto-tokenized currency.
The process of minting and redeeming FRAX tokens helps maintain stablecoin price stability. As a result, the more people use the protocol, the more stable the FRAX token becomes. Additionally, the demand for FRAX tokens influences the price of the FRAX token and can create arbitrage opportunities.
FXS token holders can vote on proposals, including adding new collateral pools, proposals to change fee structures, and "the collateral ratio rate."
The veFXS token model is a "buy-and-return system", and by locking FXS tokens, holders receive veFSX in return. The number of veFXS tokens a participant receives is proportional to the duration of their stake. The veFXS token is non-transferable and cannot be traded in liquid markets, rather it aims to encourage long-term staking.
The vision of the project is to become the first crypto-native Consumer Price Index (CPI), which FXS token holders will govern. Currently, the FRAX token is pegged to the US dollar. However, the project aims to support multiple currencies and become a permissionless global unit of account in the future.
Where to buy Frax
You can only buy Frax on decentralized exchanges with another cryptocurrency. To buy Frax Share, you must first buy Ethereum (ETH) and then use ETH to buy Frax. For this, you will need a self-service crypto wallet. The top six self-service wallets today are:
Coinbase wallet – the best wallet for beginners.
Trust Wallet – with the best backup system.
Electrum –the best for bitcoin.
Mycelium – the best choice for mobile applications.
Nano X Register – the best offline cryptocurrency wallet currently available.
Exodus – the best on the desktop.
At the moment, the most popular cryptocurrency exchanges for Frax trading are Binance, CoinW, HitBTC, Pionex, Gate.io, Curve Finance, Uniswap (V2), Uniswap (V3), Pancakeswap and Hotbit.
Additionally, Frax shares, or FXS tokens, are available on various exchanges and are as liquid as Frax stablecoins. Investors interested in acquiring governance rights to the world's first stablecoin protocol should consider buying Frax (FXS) stock.
Buying the Frax token is recommended for those interested in price stability through the use of a fractional algorithmic stablecoin.
How to buy Frax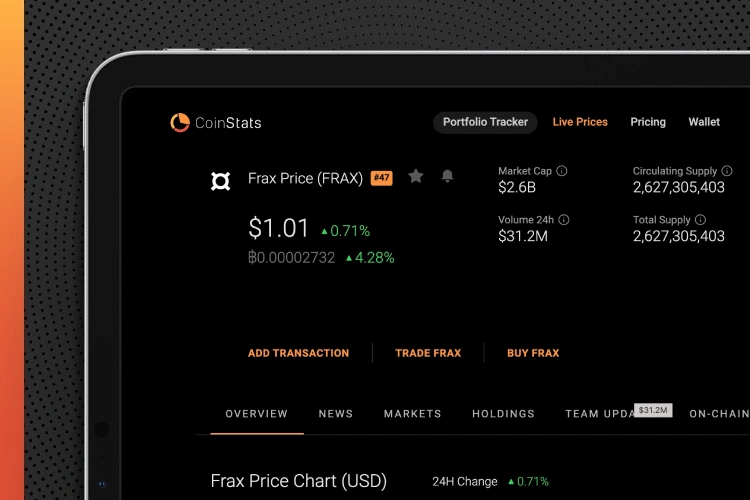 Your first step is to find a cryptocurrency platform that offers some of the lowest transaction fees in the industry to trade, buy and sell Frax. You should also compare the platforms' security, reputation, deposit methods, supported fiat currencies to choose the one that best suits your needs.
Frax can be purchased using cryptocurrency
If you already have different digital tokens in an external wallet, you can use them to buy Frax. All you have to do is deposit the coins in your Trust Wallet or Coinbase wallet, for example, and exchange them for Frax using a DEX (decentralized exchange) such as Uniswap or Pancakeswap. After that, you can withdraw Frax to an external ERC-20 wallet.
Download and configure the self-service wallet you prefer (Coinbase, Trust, Ledger Nano, etc.).
Consider Ethereum network fees, which vary depending on network occupancy and transaction complexity and speed.
Buy and transfer ETH to your self-service wallet.
Use your ETH to buy Frax.
Frax can be purchased with a debit or credit card
If you want to buy Frax using your debit or credit card, you can do so through a centralized or decentralized exchange. A centralized exchange allows you to buy Frax directly by first buying another digital token and then exchanging it for Frax. It is possible to buy cryptocurrencies with your debit or credit card through a self-service wallet.
It should be noted that you must go through a "Know Your Customer" (KYC) verification process to trade with fiat currency.
Is it possible to buy FXS with cash
There is no direct way to buy FXS with cash at this time. However, you can use marketplaces like LocalBitcoins to buy bitcoin (BTC) first and then complete the rest of the process by moving your bitcoin to the appropriate AltCoin exchange.
LocalBitcoins is a bitcoin exchange that operates on a peer-to-peer basis. A bitcoin exchange is a marketplace where users can buy and sell bitcoins directly. Users called merchants post ads on the internet with the price and payment method they want to offer. You can choose to buy from merchants in a specific neighboring region based on your preferences on the platform. The downside is that the costs on this site are usually higher and you need to proceed with caution to avoid being defrauded.
Advantages and disadvantages of buying Frax
To buy or not to buy? That is the question. Investing in Frax has many advantages, but there are also some disadvantages you should consider before making your decision. Before buying Frax and adding it to your cryptocurrency portfolio, you should consider the following factors:
Frax is a stablecoin pegged to the US dollar, so the supply of the token is volatile and keeps changing according to the fractional algorithmic strategy to keep the price of an asset at $1.
The governance token of the Frax ecosystem is FXS (Frax Shares). Excess collateral value, fees payable, and seigniorage revenue are all generated through this mechanism.
The collateralized and algorithmic ratio depends on the market price of the FRAX stablecoin. There are fewer guarantees at higher prices, while at lower prices there are more guarantees required.
Frax is reserve dependent and under warranty. According to the governance protocol, it is fully asset-backed. If USDC or USDT represents 40% of the total, FSX must represent the remaining 60%.
Additionally, the stablecoin is supported by FXS.
USD Coin (USDC) and USD Tether are two potential stablecoins that would provide some of the support needed for this coin.
Network data can be accessed through the use of oracles in this protocol. Chainlink and Uniswap are used to calculate time-weighted average prices for ETH, USDT, and USDC.
To avoid losing money when buying Frax, you need to research the risks associated with it. Like other digital assets, the significant risk is the volatility of its value in the cryptocurrency market. If you cash out when the price drops below the amount you bought, you will lose money.
This is why you should invest in Frax with caution:
Maintain a respectable level of stakes.
Buy Frax in small but frequent doses. This is called the dollar cost averaging technique.
Invest in additional Defi Coins to diversify your digital token holdings.
Conclusion
In the cryptocurrency market, Frax is an innovative cryptocurrency that has taken the industry by storm. Fast transfers, low costs, and the ability to trade directly with other cryptocurrencies are all hallmarks of the Frax system.
The Frax team will deploy their protocol on Moonbeam so that their stablecoin can be minted natively on Polkadot. This integration will allow users and teams across the Polkadot and Moonbeam ecosystems to access highly scalable, stable, on-chain money.
We explained how to buy Frax and why it could be a good investment in this article. Remember that it is only possible to trade Frax on decentralized exchanges, as it is a crypto-tokenized currency.
The Frax token, also known as the FXS token, is traded on many exchanges and is available in liquid form.
The token supply of Frax, a stablecoin lightly pegged to the US dollar, fluctuates. In the bitcoin market, the value of Frax goes up and down, which is one of the biggest drawbacks.
Get your own advice and consider your own circumstances before relying on the information in this article.
Check the nature of any service or product (including its regulatory requirements and legal status) and consult the websites of relevant regulators before making any investment decision.
You can also check out our blog for additional informative articles on wallets, crypto exchanges, and tokens, including How to Buy Gala and several other cryptocurrencies.