Cardano (ADA), the eighth largest cryptocurrency by market capitalization, has formed a golden cross on its daily chart.
Cardano's 50 daily moving average (MA) rose above the 200 moving average (MA), confirming a trend known as the "golden cross" – a bullish indicator.
A golden cross indicates a long-term bull market and, as such, traders are on the lookout to see if Cardano will maintain its recent advance. Cardano has benefited from a price increase since the weekend and could mark its third straight day of gains if today's close is in the green.
ADA initiated a price rebound in mid-October after months of sluggish trading following the emergence of a death crossover pattern in June of this year.
Interestingly, after forming its death cross in June, Cardano saw a rise to a high of $0.38 before bears took control. This precedent raises the question of whether bulls can maintain their current rise and suggests that ADA could see a brief correction before continuing its advance.
What's next for the price?
Cardano ADA has rebounded strongly from the November 18 low of $0.35, as seen in the long tail of the candlestick. The bulls advanced the rally to today's high of $0.3996, with the next target being the high of $0.409. If the bulls manage to break this barrier, Cardano could reach $0.46.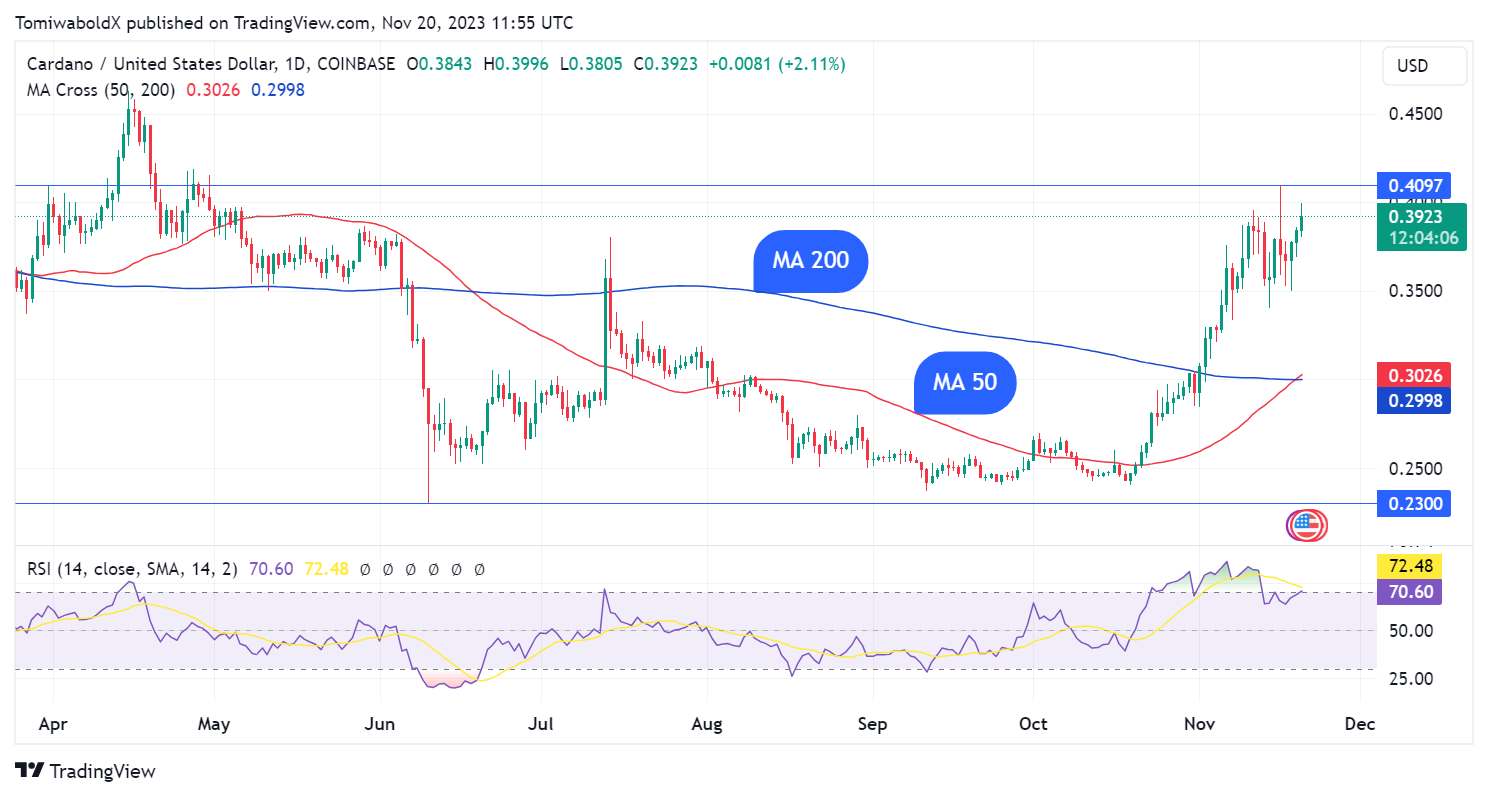 Instead, if the price falls below $0.35, it will open the door for a likely decline below $0.32. Such a trend suggests that ADA price could remain in a range between $0.24 and $0.38 for some time.
ADA increased by 6.16% in the last 24 hours to $0.395 at the time of writing. Over the past seven days, the cryptocurrency has gained 6.79%.
According to the last Coin Shares report, digital asset investment products saw inflows totaling $176 million last week, a continuation of consecutive weekly inflows that lasted eight weeks. Cardano has received inflows, along with other altcoins.