Arman Shirinyan
XRP finally breaks through and beats substantial resistance that held it below $0.5 threshold
In a significant development for XRP investors, the cryptocurrency has successfully broken through a crucial resistance level. The local resistance, reflected in the descending trendline at around $0.5010, has been a focal point for traders and analysts alike. As of the latest data, XRP is trading at $0.5082, surpassing the resistance and indicating a potential bullish trend.
The current price of XRP stands at $0.52, confirming that the asset has moved past its previous resistance level of $0.5010. The successful breach of the resistance level could pave the way for further upward movement.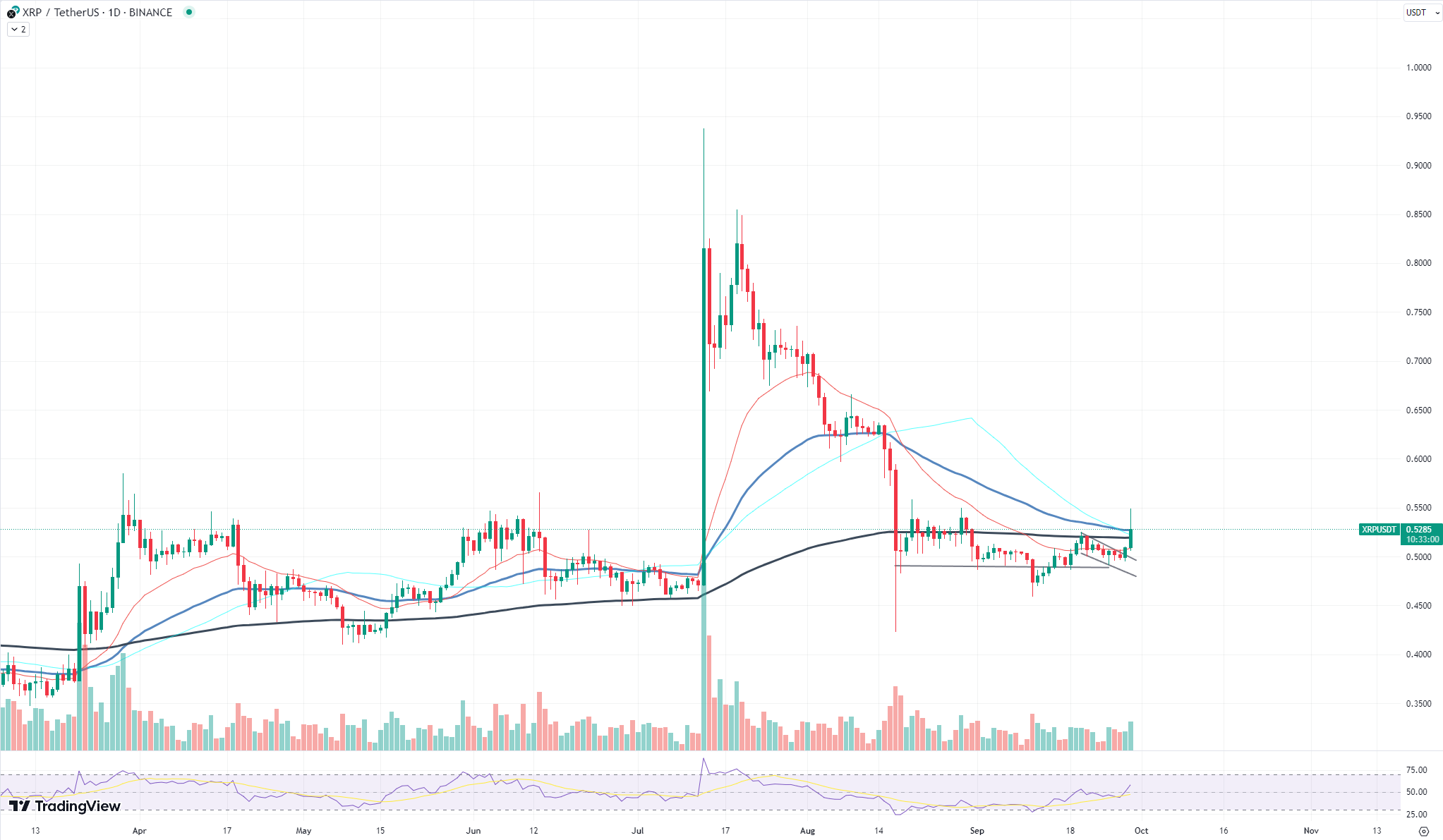 Breaking a resistance level is often seen as a bullish indicator, suggesting that the asset may continue to rise in value. However, it is essential to consider other market factors and perform a comprehensive analysis before making any investment decisions.
The first and most optimistic scenario is that XRP will continue its upward trajectory, possibly aiming for the next resistance level.
Breakthrough of the 200 EMA: If XRP can also break through the 200 Exponential Moving Average (EMA), it would be another bullish sign, adding more credibility to the notion that the asset could continue to appreciate.
Reversal and Downward Trend: On the flip side, failed attempts to sustain the breakthrough could see XRP move back toward the support level of the descending channel. However, a drop below this is unlikely due to the lack of volume and liquidity on the market, as well as another support level at $0.48.
PEPE making comeback
In a market where volatility is the norm, PEPE token has been making waves with its unexpectedly strong performance. Currently trading at $0.0000008, PEPE is drawing closer to the 50 Exponential Moving Average (EMA) resistance level. While this could be a point where the token may reverse its course, liquidity and volume metrics suggest that PEPE is robust enough to potentially break through.
As PEPE approaches the 50 EMA resistance level, traders and investors are keenly watching to see if it will break through or reverse. The token's liquidity and trading volume indicate that it has the strength to potentially surpass this resistance, but as always, great selling pressure may occur at any given moment, nullifying the asset's growth.
One of the most plausible explanations for PEPE's recent surge is whale manipulation. There has been a noticeable uptick in social interest toward PEPE, and it is likely that whales are capitalizing on this. 
By pushing the token's price upwards, these large holders aim to create a retail momentum that could propel the token even further. This is a common strategy used to influence less-established tokens, and PEPE seems to be the latest beneficiary — or victim, depending on your perspective — of this tactic.
Triangle no more for ADA
Cardano has finalized its symmetrical triangle pattern formation, a technical indicator often used to predict the future direction of an asset's price. Currently trading at $0.2525, Cardano is showing signs of bullish momentum, further evidenced by an uptick in its Relative Strength Index (RSI) breaking through the 21 Exponential Moving Average (EMA).
The symmetrical triangle is a chart pattern used in technical analysis that is typically neutral, meaning it can break out in either an upward or downward direction. For Cardano, the pattern has been completed, and the price seems to be leaning toward a bullish breakout. This could be a pivotal moment for ADA holders and potential investors as the asset may be gearing up for a significant move.
Adding to the bullish sentiment is Cardano's RSI, which has recently broken through the 21 EMA. This is often considered a bullish signal, indicating that the asset might be entering an uptrend. The next target for Cardano is the 50 EMA, a level that could act as resistance but, if broken, could pave the way for further gains.