In the tumultuous world of cryptocurrencies, when most digital assets have suffered severe declines, LayerZero seems to have become one of the most popular projects in the bear market.
The latest funding round for this blockchain infrastructure protocol included several high-profile venture capitalists, including Andreessen Horowitz, Christie's, Sequoia Capital, and Samsung Next. The round, which raised $120 million in Series B funding at a $3 billion valuation, was three times larger than the previous round.
Moreover, even investors have been intrigued by LayerZero's airdrops. This left many scrambling to figure out how to get involved with the project and share in its future success.
Indeed, these accomplishments have made LayerZero an exceptional success amid a lackluster cryptocurrency market, demonstrating that investors are still interested in infrastructure-focused crypto projects.
What is LayerZero
LayerZero is an omnichain interoperability protocol designed for lightweight messages passing across chains. LayerZero provides authentic, guaranteed message delivery with configurable reliability.
So what exactly is LayerZero?
LayerZero is an inter-blockchain communication platform. It can help transfer information between different blockchains by acting as a translator.
In the same way that people need a translator to communicate with someone who speaks a different language, blockchains with different technical systems struggle to communicate directly. This is where LayerZero comes in, acting as a translator to enable clear communication between blockchains. Users can specify what information they want to send and to which blockchain, and then LayerZero is responsible for converting and transmitting the information between the two blockchains.
For example, if a user wants to send a message from Blockchain A to Blockchain B, the message is first sent to LayerZero. LayerZero acts as an intermediary and forwards the message to the people responsible for carrying out the task. They forward the message to the appropriate data node on Blockchain B. Blockchain B verifies its authenticity and sends it to the specified receiving address.
In summary, LayerZero acts as a communication protocol or language translator, removing barriers between different blockchains and enabling efficient and accurate information exchange. Users do not have to worry about the technical details of the two blockchains; they only have to specify the content and the recipient, and LayerZero takes care of the rest.
Why LayerZero?
LayerZero is designed to address the limitations of existing interoperability protocols that rely on trusted intermediaries or trustees. Benefits of LayerZero include
Trustless Transactions
LayerZero allows users to send and receive money directly between different blockchains without relying on intermediaries. This reduces the risk of losing money to hackers or dishonest custodians.
Easy cross-chain development
LayerZero offers developers an easy way to build applications that run on multiple blockchains. This means that they can create new decentralized exchanges, wallets and betting platforms that are more flexible and innovative.
Support for native assets
With LayerZero, users can send their cryptocurrencies directly between different blockchains without converting them to another type of token. This facilitates the use of different blockchains and reduces costs.
Better liquidity
LayerZero makes it easier for people to buy and sell different cryptocurrencies across multiple blockchains. This means people can get better prices and more easily buy and sell a wide range of digital tokens.
As a new cross-chain communication protocol, LayerZero has significant advantages, such as the possibility of trustless transactions. However, it also faces challenges such as technical complexity, difficulty in developing the ecosystem, and potential security risks.
As the LayerZero team continues to optimize and improve the protocol, expand its application scenarios, deepen cooperation with traditional public channels, and improve its security defense capabilities, LayerZero can play a crucial role as the cornerstone of cross-chain technology.
How to get the airdrop
Although LayerZero has yet to make an official announcement, many people are gearing up for the upcoming airdrop potential. However, some people can take steps to increase the likelihood of receiving airdrop tokens.
Based on experience, here are some things people can do:
Actively participate in the official LayerZero Discord community by posting regularly and interacting with other users. LayerZero may award more airdrop tokens based on community participation.

Increase engagement on Twitter by retweeting and commenting on LayerZero tweets more often. LayerZero may award more airdrop tokens based on social influence on Twitter.

Trade more LayerZero-related smart contracts to increase your chances of receiving airdrop tokens. LayerZero may allocate airdrop tokens based on trading volume.

Use the LayerZero Testnet Bridge to perform more Testnet transactions. LayerZero may allocate more airdrop tokens based on how often the test network is used.
In summary, even though LayerZero has not officially announced the airdrop plan, community members can still proactively participate in the community, share on the platform, and show their support for the LayerZero project to increase their chances of receiving rewards. airdrop rewards.
Extracting information from data
So what insights can we glean from the data?
User Stories: Growing Interest in LayerZero's Technology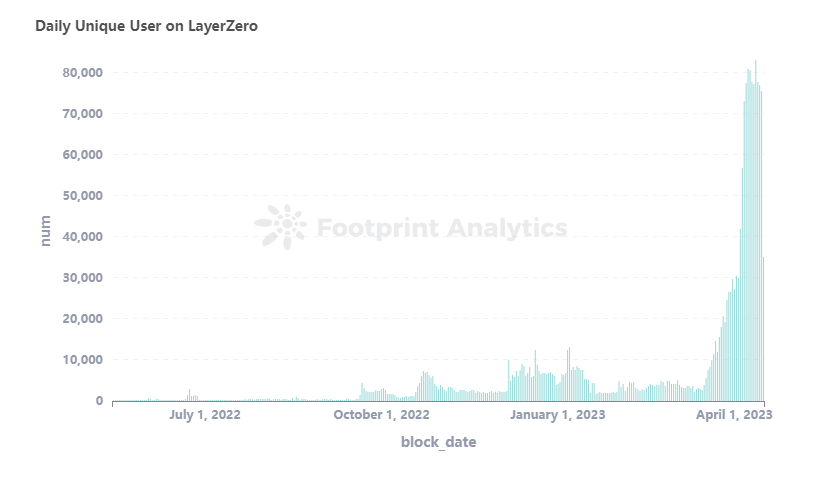 The growing number of unique users on LayerZero, particularly since March, indicates growing interest in LayerZero's technology. According to Footprint Analytics, as of April 20, there were over 866,000 unique users on LayerZero. This is due to the surge in unique users since the end of March, likely fueled by possible airdrop events that promote the technology and encourage more users to use it.
LayerZero has positioned itself as a blockchain infrastructure provider with excellent transaction speed and negligible fees. As a result, it becomes an attractive option for developers and businesses looking to build decentralized applications capable of handling large volumes of transactions and users.
As more users join LayerZero, it will likely attract more developers and applications, further increasing network adoption and use cases.
Transaction Insights: Challenge and Opportunity Amid a Growing User Base
The surge in transactions on LayerZero in March was likely due to successful marketing campaigns to promote the platform's features and benefits.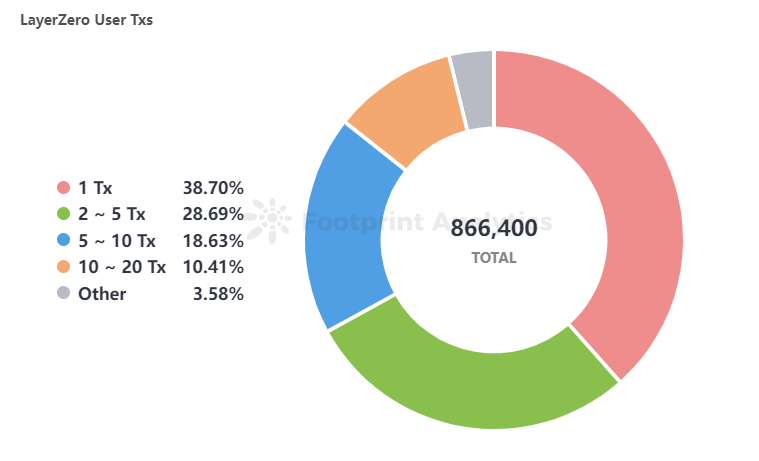 According to Footprint Analytics, 38.70% of all transactions were made by users who made only one transaction. This indicates that the potential airdrop events have succeeded in attracting many new users to try out the LayerZero protocol. However, as users become familiar with the LayerZero protocol and the number of transactions increases, the number of participating users decreases.
Only a small percentage of users (3.58%) perform high-frequency transactions, while the majority are simply completing tasks rather than actively using LayerZero.
This user structure presents both challenges and opportunities for the LayerZero protocol. The opportunity lies in the fact that airdrop events can quickly attract new users. The challenge is to convert more new users into loyal and highly active users, thereby increasing trading volumes on the platform. This will require LayerZero to continue to improve its technology, enrich its use cases and increase user adoption.
Blockchain Insights: Layer2 blockchains perform well
Arbitration stands out with the highest number of unique users, followed by Optimism and Polygon, as the LayerZero protocol grows across different networks.

There are currently projects integrating the LayerZero protocol, including Stargate, Hashflow, Radiant Capital, SushiSwap, and Rage Trade, among others, in cross-chain trading, lending, liquidity mining, and NFT. These projects can use LayerZero's protocol to enable asset transfers, contract invocations, and message transmission across different chains. LayerZero provides specialized tools and services to users on high-performance networks, driving the adoption and use cases of its technology.
In summary, data analysis of LayerZero's user and transaction volume results show promising growth and adoption potential in the blockchain space. By improving user engagement and retention, supporting high-performance networks, and expanding its reach, LayerZero is well positioned to become a leading blockchain infrastructure provider.
This piece is contributed by Footprint analysis community.
The Footprint Community is where data and crypto enthusiasts around the world help each other understand and gain insight into Web3, the Metaverse, DeFi, GameFi, or any other area of ​​the nascent blockchain world. Here you will find active and diverse voices that support each other and move the community forward.