The community of Shiba Inu (SHIB), the second largest meme piece, has officially launched the Join Shibarium "admission portal", a final point of its upcoming Shibarium L2. The Shibarium portal will serve as a gateway for all enthusiasts and entrepreneurs interested in working with Shiba Inu (SHIB) on its native blockchain network.
Shiba Inu Shibarium Portal (SHIB) Launch: Highlights
On February 26, 2023, Shytoshi Kusama, the pseudonymous main developer of Shiba Inu (SHIB) introduced the Join Shibarium portal, the "admission form" for the upcoming L2.
Shibarium is the very first second-layer scalability solution on Ethereum (ETH) developed by the memecoin team;
Shibarium is designed to accumulate and integrate projects interested in building for public Shiba Inu (SHIB) with low gas consumption and high throughput;
Since February 26, Web3 developers, entrepreneurs, investors, potential validators and content creators can apply to the Join Shibarium portal to start testing Shibarium and studying its documentation;
The Shibarium beta could go live in the coming weeks, while the mainnet release is expected in early Q2 2023.
As such, Shibarium is an unprecedented initiative: a project that started with a semi-ironic "meme coin" philosophy can evolve into a full-scale scaling ecosystem for Web3 and begin to break through the bottlenecks of most dangerous stranglehold on the progress of cryptocurrency.
What are meme coins and why are they popular?
Meme coins, or "dog coins" at this point, represent a particular class of altcoins originally developed and promoted with no real utility. Dogecoin (DOGE), a 2013 Litecoin (LTC) fork, was the first meme coin; it was inspired by memes featuring "Doge", a funny Japanese Shiba Inu dog. From its inception, it was described as a joke: its team did not envisage any use case.
The coin had almost been forgotten, but in August 2020, TikTok bloggers decided to pump DOGE's price. Six months later, the token caught the interest of Tesla's "techno king", Elon Musk. With his provocative tweets, he sparked the "meme coin" narrative: Dogecoin (DOGE) soared 1,000% in 24 hours.
In response to the popularity of Dogecoin (DOGE), crypto developers have started creating dog-themed meme coins as copycats of Dogecoin (DOGE). Shiba Inu (SHIB), Floki Inu (FLOKI), Baby Dogecoin (BABYDOGE) and Dogelon Mars (ELON) are the most popular meme coins of the second generation.
What is the Shiba Inu (SHIB)?
Launched in August 2020 amid DeFi Summer and the first-ever TikTok pump, Shiba Inu (SHIB) is the second-largest meme cryptocurrency by market capitalization. It prioritizes the philosophy of decentralization, "build for fun" and community-oriented design.
Shiba Inu tokenomics (SHIB) is backed by SHIB, an ERC-20 cryptocurrency issued on the Ethereum (ETH) blockchain. Shiba Inu (SHIB) has the largest total supply of all the top altcoins: 1 quadrillion SHIB has been issued, which equals 1 followed by 15 zeros.
Despite the meme coin status, the developers of Shiba Inu (SHIB) and its community maintain a "serious" ecosystem with a native DeFi ShibaSwap protocol and NFT and metaverse projects. Shiba Inu (SHIB) ecosystem liquidity providers can earn rewards for staking its three native coins, SHIB, BONE, and LEASH (for xSHIB, xBONE, and xLEASH yields). Additionally, the team has released a governance module and is moving closer and closer to the Shibarium beta test network, a Layer 2 network designed to optimize operations in the Shiba Inu (SHIB) ecosystem.
What is Shibarium, a future L2 network?
Shibarium by Shiba Inu (SHIB) developers should inherit best practices from the most popular L2 networks on Ethereum (ETH).
Shibarium: blockchain
Like all major L2s, Shibarium is designed to handle some of the computation off-chain to reduce transactional pressure on the Ethereum (ETH) mainnet. Bone ShibaSwap (BONE) will be a gas currency of the next blockchain. Twenty million BONE will be reserved to reward validators and delegators in the Shibarium ecosystem.
Like Polygon (MATIC), Shibarium will work with Heimdall Validator and Bor block producer nodes. Heimdall will be built on the Tendermint consensus engine, while Bor will be 100% compatible with Ethereum Virtual Machine (EVM).
To become validators, Shibarium users will need to lock up at least 10,000 BONE tokens. Enthusiasts interested in supporting the network without running the nodes themselves will be able to delegate their tokens.
Shibarium: ecosystem
The new Join Shibarium portal invites six types of contributors to collaborate with it. It welcomes "Web3/Web4" developers to create applications on Shibarium. Crypto entrepreneurs can move their projects to the next blockchain. The registration process for validators/delegators is also underway.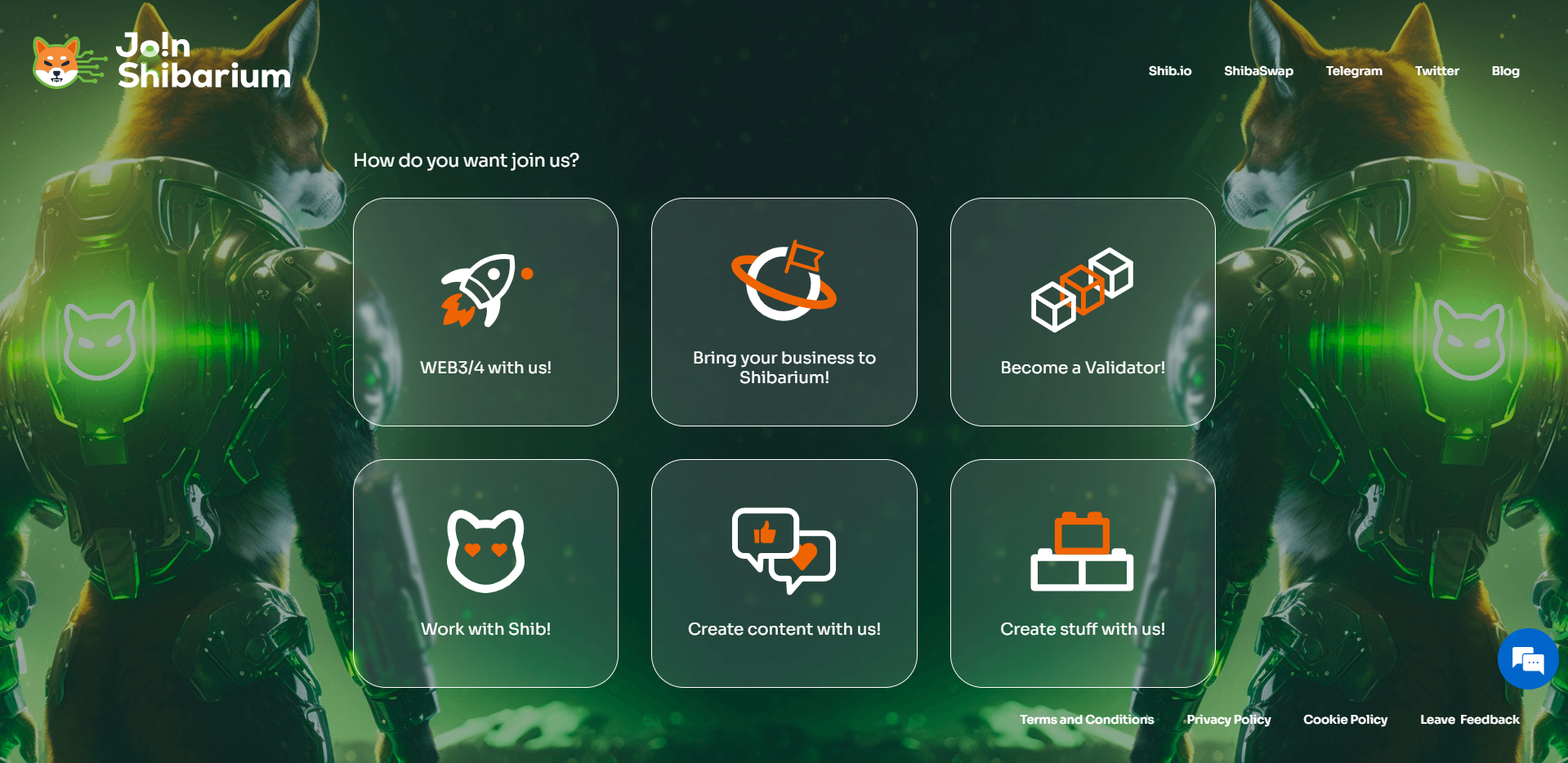 Additionally, any traders interested in starting to accept Shiba Inu (SHIB) – which will be easier with an active L2 solution – can apply through the Join Shibarium portal. Finally, content creators and ecosystem managers can submit their applications and join Shibarium's development and commercialization progress.
In his introductory blog post, Shytoshi Kusama hinted at the integration of Shibarium into Shiba Inu (SHIB) metaverse developments and the game Shiba Eternity.
Shibarium: What does this mean for SHIB, BONE and TREAT?
It is certain that the release of Shibarium will be a milestone for all tokens in the Shiba Inu (SHIB) ecosystem. For SHIB, this will mean yet another huge catalyst for mass adoption. As Shibarium uses Bone Shibaswap (BONE) as its gas fee token, the launch of the L2 platform will be a major achievement for its tokenomics.
Besides SHIB and BONE, Shibarium will rely on an additional financial incentive instrument, TREAT. This token has not yet been released.
Additionally, the developers of Shiba Inu (SHIB) have pointed out that all assets needed for Shibarium beta testing will be available for free: every offer to buy test tokens should be treated as a blatant scam.
Final Thoughts
Shibarium is a highly anticipated second layer solution on top of Ethereum (ETH). This is the first-ever scaling network associated with meme pieces.
Shibarium will give a boost to the Shiba Inu (SHIB) ecosystem by integrating new dApps and new products. Also, it will drastically change the symbolic design of SHIB and related tokens.