Godfrey Benjamin
Uniswap (UNI) joins latest uptrend with visibly new target price locked
Uniswap (UNI) is currently wriggling away from its bearish outlook in what appears to be a concerted effort to charge toward a new price high. For now, the automated market maker (AMM) token is priced at $4.35 on spot exchanges after inking a 2.3% growth at the time of writing per data from CoinMarketCap.
The Uniswap outlook shows its current resurgence is highly defined. While the price growth is still largely mild, there is a visible uptick in its trading volume, an indication that positive buying sentiment has returned to the coin. At the moment, a total of $62,283,601 have been traded overnight, signifying a 4.96% uptrend.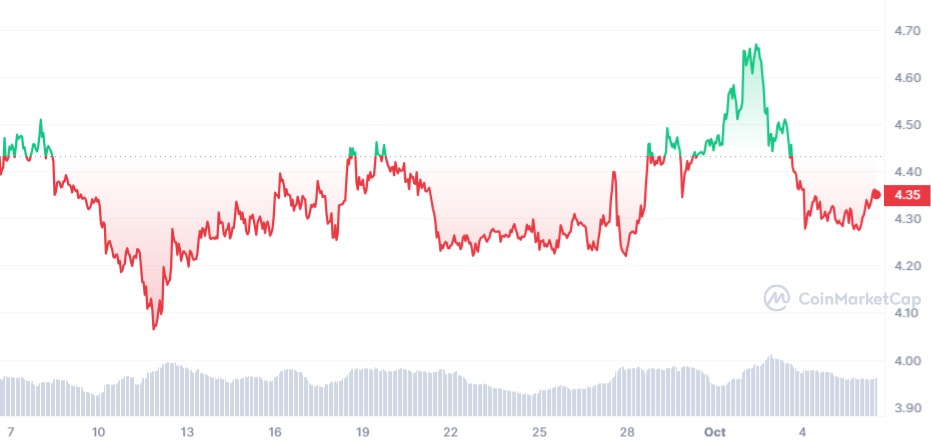 A look at the Uniswap price chart as shown above shows it has not dared to retest the $6 price mark in more than a month. With psychological resistance now placed at the $5 price level, any attempt to go beyond this level has been visibly crushed more than once.
The current bullish trigger on the market might be changing the narrative for Uniswap altogether. In what appears as a decoupling from the general bearish trend at this time, UNI might be activated and on a path to soar toward the $6 price mark. 
Inherent UNI fundamentals
Uniswap has experienced a lot of mishaps in recent times, contributing to its relatively woeful performance when compared to its peers. From disputes featuring the founder and the V4 fork takedown to the bouts of exploits that have rocked the ecosystem in recent times, UNI has been deemed unattractive to most buyers.
Nonetheless, Uniswap is still maintaining its first-mover advantage in the AMM world, an arena that protocols like the XRPL are now pushing into. With future upgrades and impending enhancements, Uniswap is setting the pace for sustained UNI relevance that can boost demand in the mid-to-long term.