Alex Dovbnya
Elon Musk, CEO of SpaceX and Tesla, recently suspended a popular Twitter bot account linked to the Bob Token (BOB) meme coin, a move that caused the price of the cryptocurrency to drop 30%
Elon Musk, CEO of SpaceX and Tesla, has suspended an account linked to the popular Bob Token (BOB) coin, causing its value to plummet by 30%.
BOB is an ERC-20 meme coin that powers a Twitter response bot named Bob. The bot is designed to explain tweets in simple terms and is activated when tagged in the comments section of any tweet on @explainthisbob. Due to his witty replies, Bob gained traction among Twitter users, which increased the popularity of the BOB token among crypto enthusiasts.
However, like most meme coins, BOB lacks a robust use case or inherent value proposition, drawing scam accusations.
Musk, known for his active and often controversial presence on Twitter, had previously engaged with the @ExplainThisBob account, which has been accused of promoting fraudulent cryptocurrencies.
Brett Meiselas, a critic of Musk, underline that the far-right activist had boosted the account only a day before his suspension. "Elon repeatedly engages with and reinforces this annoying @ExplainThisBob crypto bot account – including just yesterday," Meiselas tweeted. "Then, he suddenly suspended it, causing the value of the scam meme's coin to plummet. Feels good, doesn't it?"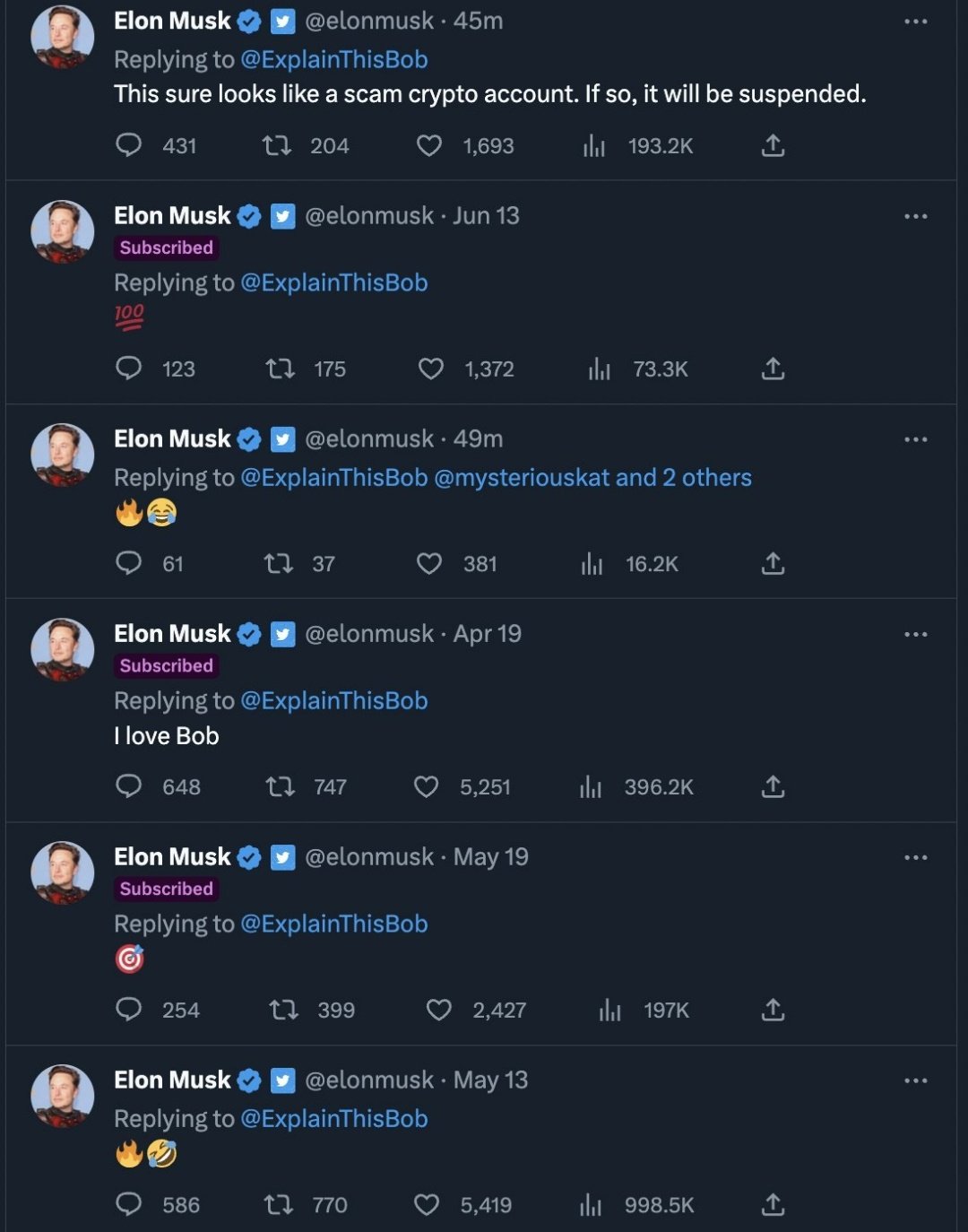 Prior to the suspension, Musk questioned the legitimacy of the account in a tweet, saying, "This definitely looks like a fraudulent crypto account. If so, it will be suspended." The suspension came shortly after the tweet.
Despite this, many members of the crypto community are defending the meme coin and its associated account. Supporters took to Twitter with the hashtag "FREEBOB" to voice their opposition to Musk's characterization of the account as a scam.
This isn't the first time Musk's tweets have had a noticeable impact on cryptocurrency prices, sparking ongoing debates about the power of social media and its role in financial markets.