KuCoin, also known as a people exchange, is a user-friendly and secure platform that offers multiple trading options to its six million users worldwide. It is one of the most popular crypto trading platforms with its native cryptocurrency KuCoin Shares Token (KCS), based on the Ethereum blockchain (an ERC-20 token).
If you acquire its native KuCoin (KCS) token, you will receive significant discounts on trading fees. Additionally, KuCoin users receive a daily dividend, KCS Bonus, for holding more than 6 KCS.
If you are considering KuCoin as a possible investment, this KuCoin review will help you get started. Read on to learn everything you need to know about the KuCoin exchange and how to buy the KuCoin token in a few easy steps.
Let's start by looking at the pros and cons of the KuCoin token.
Advantages
Rewards on the KuCoin exchange
It is linked to Kucoin Exchange, a stable global platform.
No KYC is required to get a KuCoin token
Benefits of staking
Exclusive access to KuCoin Spotlight
Discounts on trading fees.
The inconvenients
The unpredictability of the cryptocurrency market
Limited pairs are available outside the native exchange.
KuCoin Exchange and KCS Features
Kucoin Exchange is based in Seychelles and licensed by the Seychelles regulator; however, the company's main operating center is in Singapore. KuCoin has more than 20 local communities in North America, Europe, Southeast Asia and other regions.
The exchange was developed by a team of crypto and blockchain professionals, and its ICO (initial coin offering) has sold 200 million KCS tokens. KuCoin went live in 2017 and has a roadmap for the development of the platform through 2024, suggesting future upgrades, an increased user base, and other improvements. In the same year, KuCoin developed and released its native token – KuCoin Shares (KCS).
The KuCoin exchange offers bank-level asset security, a smooth interface, a beginner-friendly user experience and a wide range of crypto services: margin and futures trading, an integrated P2P exchange, the ability to purchase crypto using fiat currency, such as a credit or debit card, instant exchange services, ability to earn interest on digital assets through loans or crypto staking through its Pool-X, the IEO launch pad for crypto crowdfunding, noncustodial trading, and some of the lowest trading fees among crypto exchanges.
KuCoin Token, also known as KuCoin Shares (KCS), is an ERC20 token on the Ethereum blockchain. KCS offers its users certain privileges, such as reduced trading fees, bonuses, rewards and other benefits. The token is used to make purchases or reservations, pay trading fees, pay staking rewards, bonuses, incentives, etc.
How it works
The KuCoin token is deflationary, with the exchange implementing token burning and removing assets from circulation consistent with KuCoin's long-term vision of making supply constant at 100 million. Redemption records are exposed through the blockchain explorer.
The KuCoin exchange offers a bonus program, rewarding users for holding their KuCoin KCS on the exchange. The reward is determined by the user's overall trading activity and the number of KCS held.
KCS holders enjoy several benefits such as commission income, reduced trading commissions and access to other special services. In addition, participants of the KuCoin institutional investor program receive significant discounts on trading fees.
The cryptocurrency exchange has released a buyout plan, which aims to maintain a constant number of 100 million tokens in the market. According to KuCoin, the company will use 10% of each quarter's net profit to buy KCS and destroy it.
Traders can use the KuCoin KCS token to "activate" a discount of 1% to 30% on all transactions, proportional to the number of KuCoin shares held. During this time, the exchange may adjust the fees based on market conditions.
How to Buy Kucoin KCS Tokens in 4 Quick Steps
Commonly used cryptocurrency exchanges to purchase the KuCoin token are KuCoin, BitMax, Probit, MXC, and Polonies. The platform with the most available trading pairs for KCS is KuCoin.
However, to buy KCS on major exchanges like Binance or Coinbase, you will first need to buy a major cryptocurrency and then use it to buy a KuCoin token.
Follow these simple steps to buy a KuCoin (KCS) token.
Step #1: Choose a Cryptocurrency Exchange
You should compare the features of cryptocurrency exchanges before choosing the best one for your investment needs. Some of the factors to consider are supported deposit methods, trading fees, customer support, ease of use, and local requirements.
However, buying KuCoin's native token on the KuCoin platform seems more intuitive. If you choose to trust another platform for whatever reason, you can buy KCS by trading a stablecoin, for example, Tether USDT.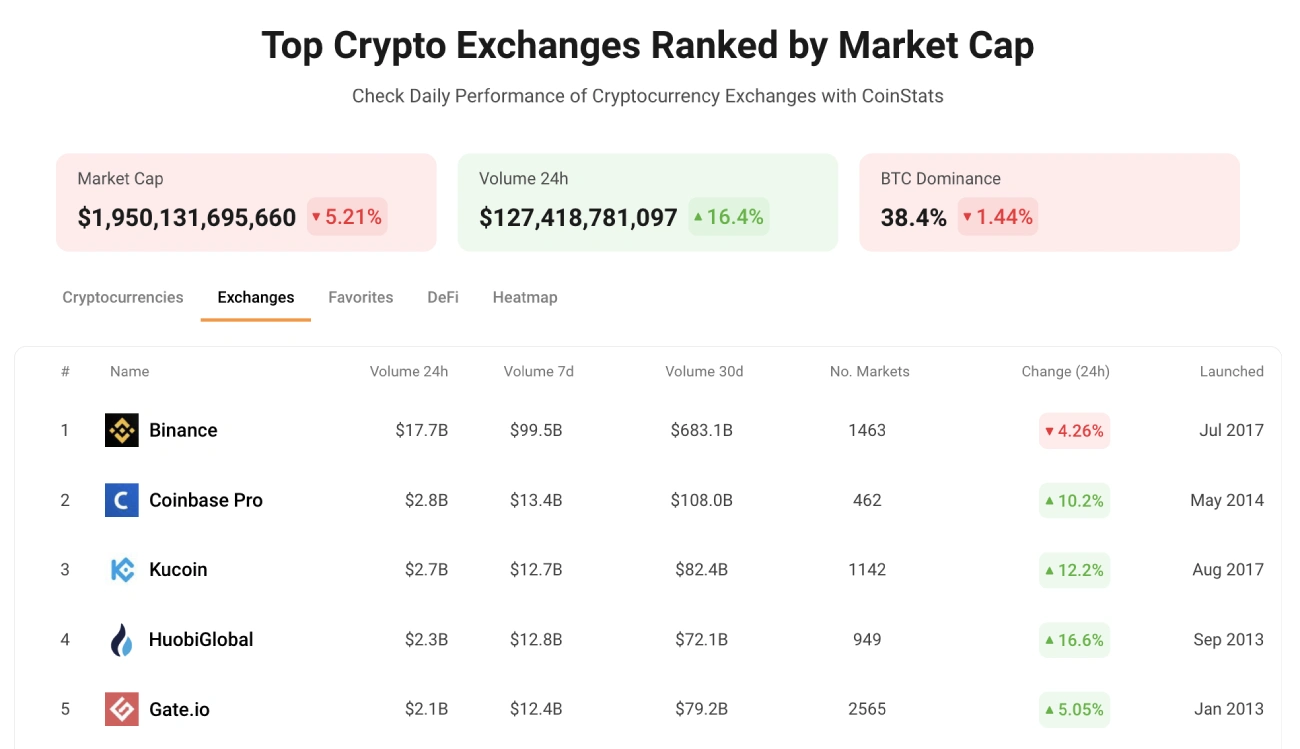 Step #2: Register an Account
To purchase the KuCoin token on its own exchange, you will need to create a KuCoin account at kucoin.com. You can use a valid email address or phone number. Registration is quite simple and does not require any personal information or KYC (know your customer) verification. Enter your email address and click the "Send Code" button. Wait for the email verification code to be sent to your mailbox and enter the verification code you received. Then set the login password, read and accept the "Terms of Use", click the "Register" button to complete your registration. To register with a phone number, wait for the SMS verification code to be sent to your phone and enter the verification code you received.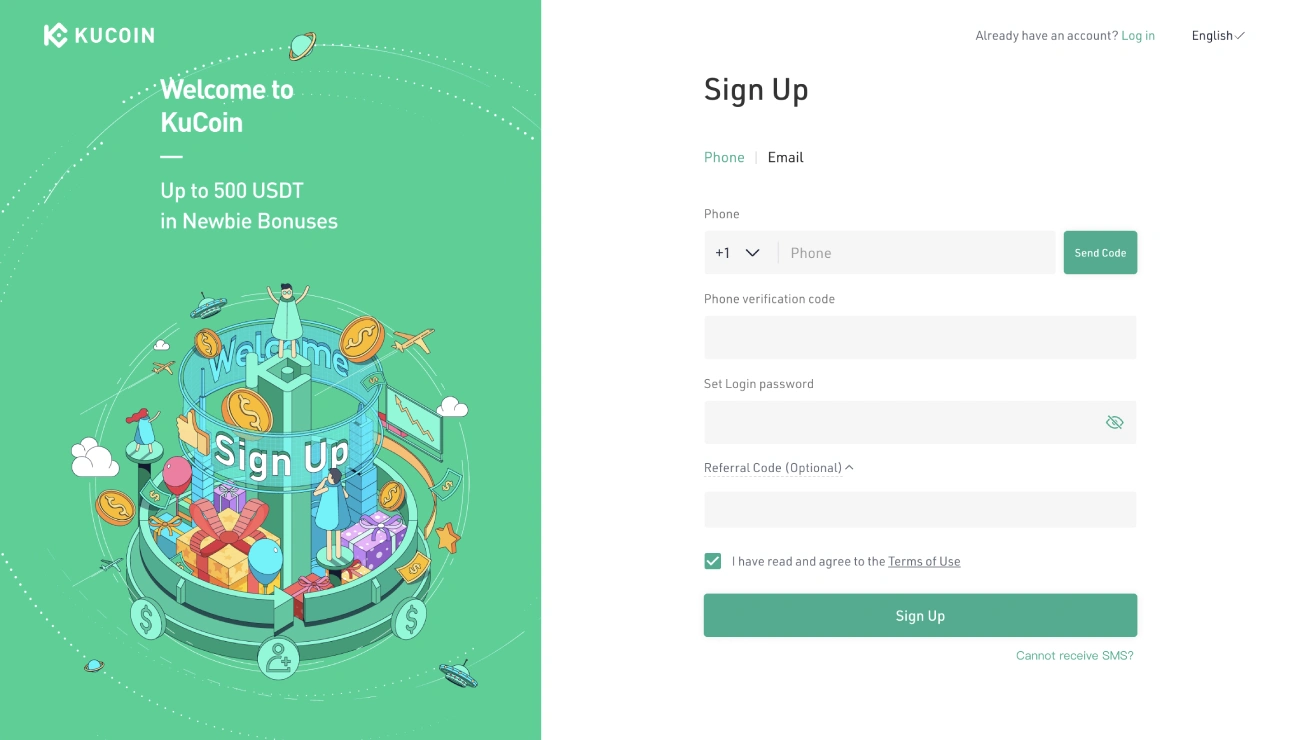 You can also use your email address or phone number to buy the KuCoin token on another platform. Make sure to follow the platform requirements.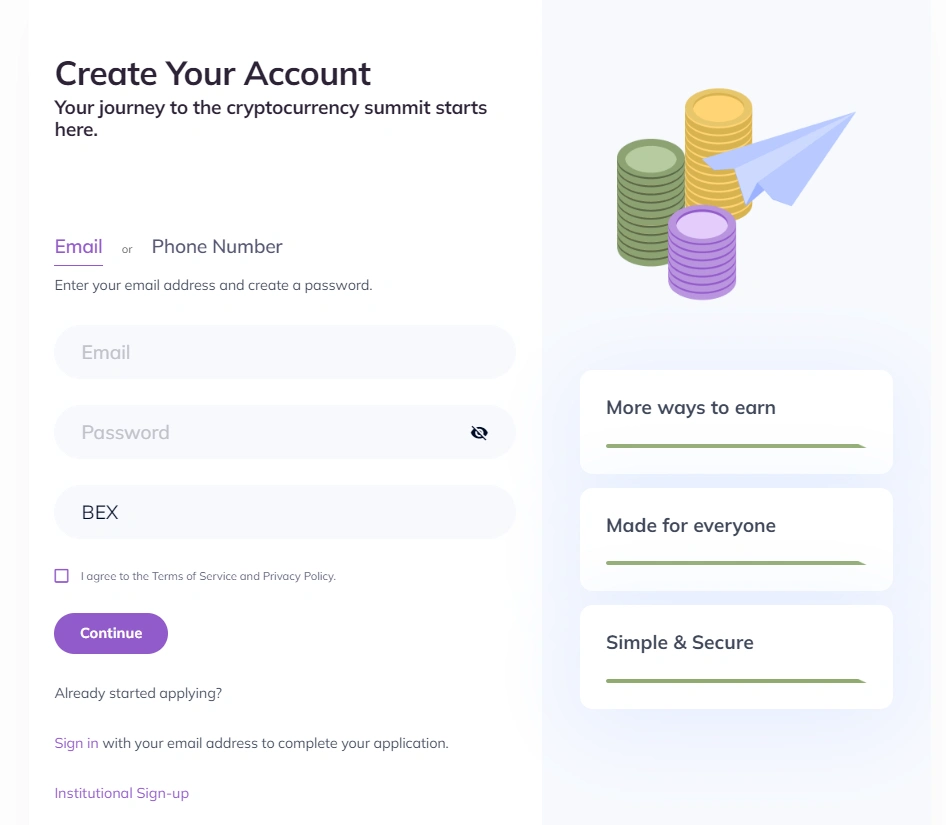 Step #3: Deposit funds
After creating your account, the next step would be to deposit funds to purchase KCS and other cryptocurrencies. On KuCoin, you can trade KCS for any major crypto, including Bitcoin (BTC), Ethereum (ETH), or USDT. You can quickly buy USDT with fiat currency via credit or debit card directly on the KuCoin exchange; buy it directly from verified holders or through a third party using a payment channel.
The platform does not support direct wire transfers, but it is possible to buy crypto with fiat currencies through a third-party app. Additionally, the platform supports credit or debit cards, Apple Pay, Google Pay, etc., but the fees can be quite high.
Your KCS purchase will be quick and easy if you already have a crypto wallet. Several KCS trading pairs are available on the KuCoin exchange, but you might have fewer trading options on other platforms.

Once you have selected the most convenient payment method, it is high time to purchase the KuCoin KCS token.
Start by checking the current price of KuCoin, but note that the current price does not indicate a future path.
Step 4: Buy the KuCoin KCS token
If you are a KuCoin exchange user, you can take advantage of a wide selection of trading pairs.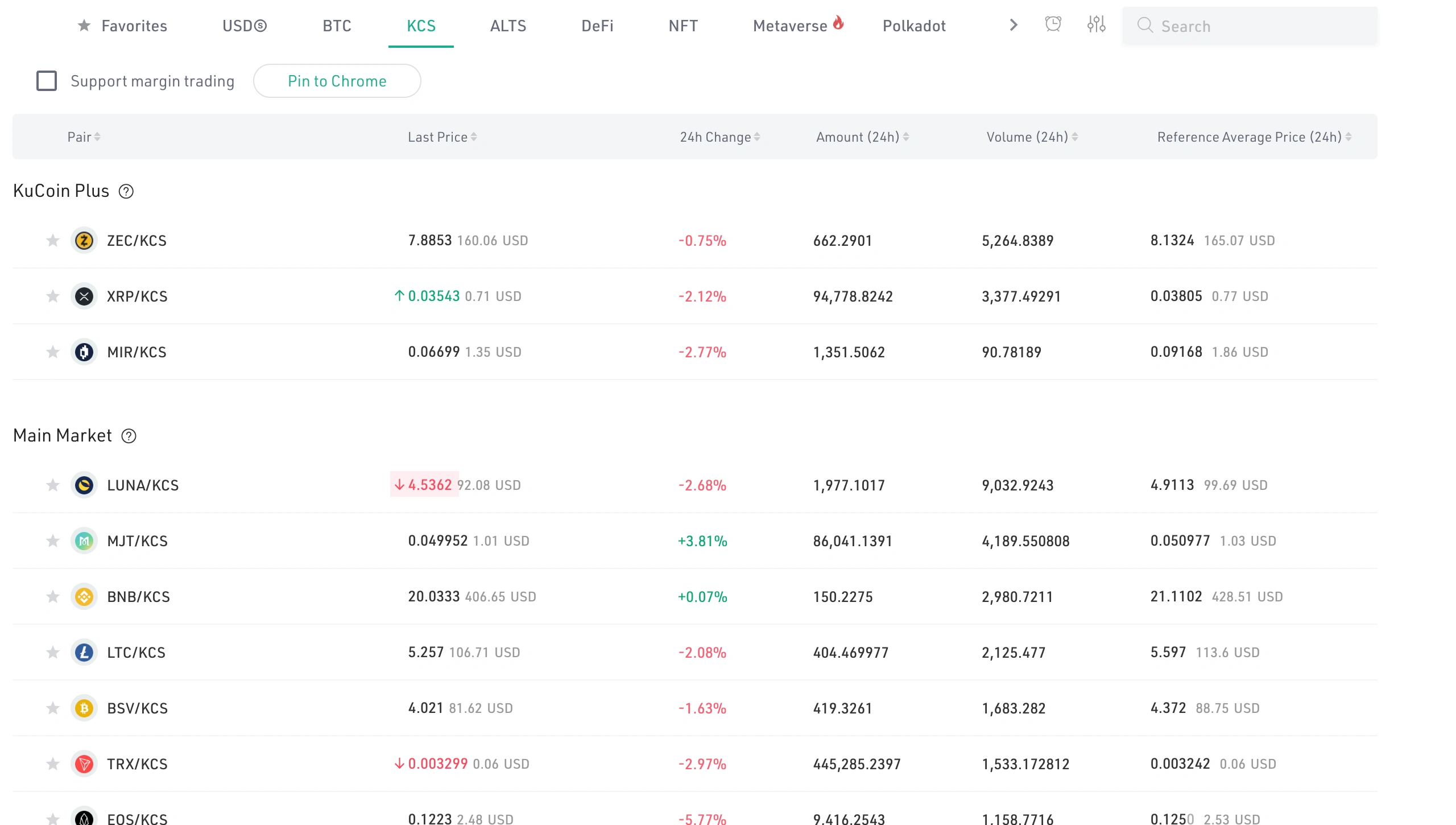 Once you have bought USDT, access the USDT/KCS pair. Enter the amount of USDT you wish to exchange and execute the trade. Congratulations on your purchase of KCS!
Now that you are a proud owner of your personal KuCoin, let's look at different options for using your coins and decide which one best suits your needs.
What to do with KuCoin tokens
There are several ways to put your KCS to good use. However, remember that the cryptocurrency market is volatile and the high risk/high reward strategy may not be best for everyone. Do your own research before considering an investment, as this review does not constitute financial advice or any other type of advice.
1. Bet
Staking is a popular option, where your crypto funds don't just hang around, but earn you useless profits. Many cryptocurrencies offer a staking option, but not all traders are familiar with the process. Staking means making coins "work for you" and earning you rewards in exchange for locking them temporarily and letting the platform use them for its purposes. In short, the process is like owning a savings account. There is an element of trust involved, just as you trust the bank to manage your assets while you hold them 'locked up' in a savings account, and they give you a return in return. Staking involves locking a certain amount of coins into your KuCoin account to earn annual returns.
2.HODL
Holding onto your crypto funds is a viable option if you think their price will skyrocket one day. However, for cryptos that have been around for years, a triple-digit increase is becoming less and less likely. Meanwhile, a gradual increase in prices could be expected.
If you want to buy KuCoin KCS tokens and store them, the important thing is to do so securely, minimizing the risk of anyone grabbing the assets without your permission. We strongly recommend that you create a private wallet with your own set of keys. Depending on your investment preferences, you can choose between software and hardware wallets, with the latter being a safer choice.
Hardware Wallets
A hardware wallet or cold wallet is a device that stores the private keys you need to receive or send cryptos. Hardware wallets are generally considered to be the safest way to store your cryptocurrencies as they offer offline storage, thus greatly reducing the risk of hacking. They are pin-secured and will erase all information after many failed attempts, preventing physical theft. Hardware wallets also allow you to sign and confirm transactions on the blockchain, giving you an extra layer of protection against cyberattacks.
Ledger hardware wallets are arguably the most secure hardware wallets allowing you to securely manage your KCS tokens.
If you think storing your KuCoin will bring you great rewards, this is the way to go.
3. Sell
You can follow the same process to redeem your KCS coins with the same exchange you purchased them through. You can sell it on an altcoin exchange for Bitcoin, Ethereum, or USDT and then cash out in fiat currency.
Either way, remember to do your own research, get your own advice, and only invest what you can afford to lose.
Hope this review helped answer some of your questions about KuCoin exchange and how to buy KuCoin KCS token.