The past 24 hours have been impressive for the cryptocurrency market, which is seeing a widespread rebound on many fronts.
Despite this development, as evidenced by a combined crypto market valuation increase of 3.4% to $880 billion as of Thursday, Solana's new dog-centric memecoin BONK saw a huge price drop compared to its competitors.
As of this writing, BONK is trading at $0.000000968754 and has fallen 66% in the past seven days, Data by Coingecko show. In the past 24 hours alone, BONK has lost 1.6% of its value.
Chart: Coingecko
BONK succumbs to bearish pressure
Despite its initial success, the BONK memecoin struggled in the weeks following its launch. The token, which appeared out of nowhere and quickly rose to the top 200 cryptocurrencies by market value, was hit hard by a major downtrend around Thursday afternoon.
It has significantly outpaced the market since the start of the year, on the heels of a retail buyout that pitted the dog-themed cryptocurrency against existing meme coin heavyweights. Dogecoin (DOGE) and Shiba Inu (SHIB).
Wealthy investors have claimed to have purchased millions, if not billions, of the viral BONK coin over the past few weeks. Therefore, Thursday's drop comes as a shock to investors with high aspirations for cryptocurrency.
This week, BONK became the last meme token to grab the attention of traders with a whopping 3,300% boost. Following this, the cryptocurrency developers burned their remaining tokens, which represented 5% of the entire BONK cryptocurrency supply.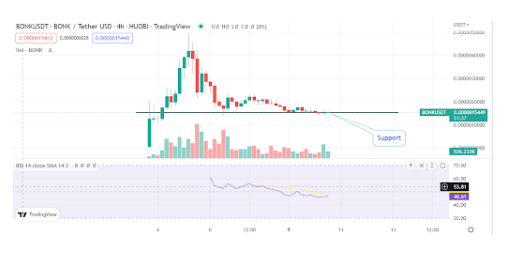 Chart: TradingView
Dogecoin Rival relies on the support of the Solana community
BONK was introduced on December 25, 2022 and its price has since increased by a four-digit rate. Additionally, the token dominated social trading platforms. Analysts attributed the success of the new token to the Solana community.
The token's value is struggling to rebound from its 66% loss in the face of a continued negative growth rate, which caused it to give up some of the gains made in the previous weeks.
When we zoom in on BONK's growth over the past two weeks, we see that it has increased by almost 1000% throughout this period.
Crypto total market cap at $864 billion on the daily chart | Chart: TradingView.com
All of these events have created a frenzy about the Solana-based token. They also increase the optimism among token holders that the crypto will gain credibility and stop being a fad.
Nonetheless, following the recent negative outburst, the fully diluted market capitalization fell by 32.61% to $102 million, while the altcoin's 24-hour trading volume increased by 200% to 36. millions of dollars.
This is direct evidence that a significant number of SOL whales are selling their BONK assets in order to generate large profits.
-Featured image by Decrypt