The environmental impact of Bitcoin mining has been a hot topic over the past year, especially in the United States. prices.
The influx of mining companies into the United States has raised concerns about their impact on energy consumption, as many regulators feared they would increase demand for fossil fuel-based energy.
However, the latest research from Daniel Batten, the founder of CH4Capital, shows that net emissions from Bitcoin mining have decreased significantly.
The research examined Bitcoin's electricity consumption as estimated by the Cambridge Bitcoin Electricity Consumption Index (CBECI) and adjusted it to account for the various energy sources used by miners. It found that net emissions from Bitcoin mining in the United States fell from 35.3 megatonnes of CO2 in December 2022 to 32.04 megatonnes of CO2 in February 2023.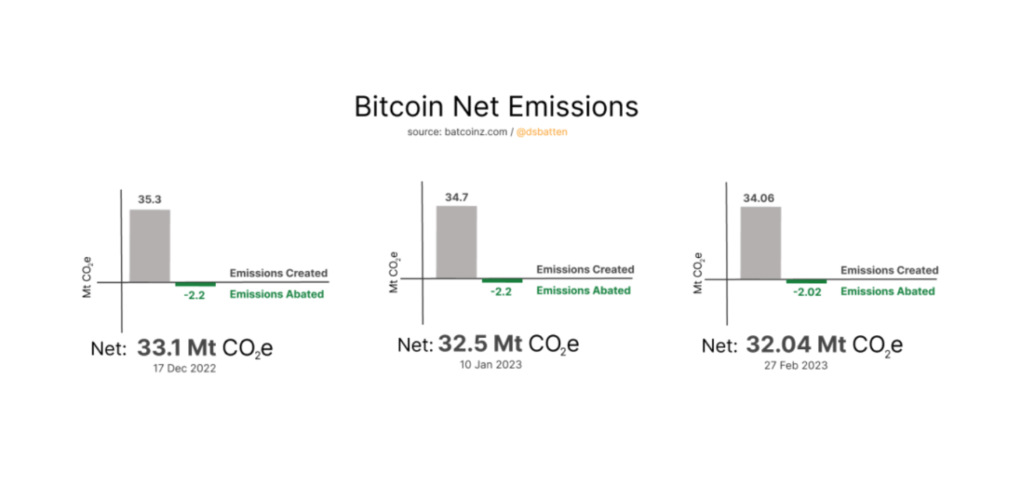 And while Batten acknowledged that these calculations are based on Cambridge data which tends to overestimate power consumption, he noted that the downward trend remains in place.
Much of this decline can be attributed to Marathon Digital, one of the largest public Bitcoin mining companies in the United States. In December, Marathon announced that approximately 100,000 of its newly acquired ASIC miners would be hosted on wind and solar farms, deploying the majority of them in Texas. The company will deploy a total of 133,000 miners across the United States, all powered by renewable energy sources.
The push towards renewable energy in the United States will most likely prompt other large miners to consider solar and wind power.